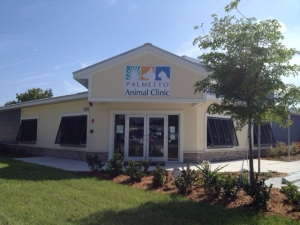 Palmetto Animal Clinic is located in Palmetto, FL, and is a full service companion animal hospital. It is our commitment to provide quality veterinary care throughout the life of your pet. Our services and facilities are designed to assist in routine preventive care for young, healthy pets; early detection and treatment of disease as your pet ages; and complete medical and surgical care as necessary during his or her lifetime.
Thank you for taking the time to read about our veterinary practice and the services we offer. We welcome your comments and suggestions. Please contact us at (941)722-2456 for all your pet health care needs.


Five Top Tips for Surviving or Avoiding the Veterinary ER
I'm the guy you don't want to meet in the middle of the night. I am not a mugger, a thief, or a cat burglar. I am an emergency veterinarian. Most of my interac ...
Read more ...
Is it Time to Get a Dog or a Cat?
There you were, all grown up and moving into your very first place after graduating from college. As we unloaded the U-Haul at your new place at grad school, I ...
Read more ...
I am Cat Furniture
As I sit here trying to type with one cat draped across both forearms, I've decided that being covered with cats is a concept worthy of consideration. Why do I ...
Read more ...
Hair Today and Not Gone Tomorrow
The other morning I looked up just as the sun highlighted my son, who was holding and petting our white cat Rocky. I stood in awe of the amount of hair falling ...
Read more ...