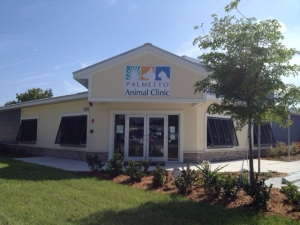 Palmetto Animal Clinic is located in Palmetto, FL, and is a full service companion animal hospital. It is our commitment to provide quality veterinary care throughout the life of your pet. Our services and facilities are designed to assist in routine preventive care for young, healthy pets; early detection and treatment of disease as your pet ages; and complete medical and surgical care as necessary during his or her lifetime.
Thank you for taking the time to read about our veterinary practice and the services we offer. We welcome your comments and suggestions. Please contact us at (941)722-2456 for all your pet health care needs.

I am Cat Furniture
As I sit here trying to type with one cat draped across both forearms, I've decided that being covered with cats is a concept worthy of consideration. Why do I ...
Read more ...
Pacemakers
Just like people, some pets need a pacemaker to keep their hearts ticking.  This article provides general information about why a pet might require a pacemaker ...
Read more ...
Separation Anxiety
One out of every six dogs may suffer from canine separation anxiety.  These dogs panic and suffer from anxiety when left alone. Often these dogs behave perfectl ...
Read more ...
Chicken Jerky Treats from China may be Associated with Kidney Issues
The chicken jerky treats made in China have been associated with kidney disease for a few years. Ever since the association between these products and illness w ...
Read more ...